At Home Workout 104
Three exercises as follows:
Each body weight exercise is done for 1 minute, the circuit is repeated 3 times. Total exercise time is 9 minutes.
Click TIMER to download the 1 minute timer.
Walkouts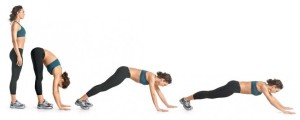 Stand tall with the legs straight, bend from the hips, reach for the floor.
Slowly lower the torso toward the floor and walk the hands forward.
Once in a push-up position, start walking the hands back to your feet.
Breathing out, slowly rise and return to standing.
Repeat for the minute.


.
Forward Lunge with Rotation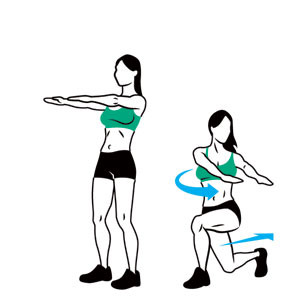 Stand with your feet hip-width apart and your arms straight out.
Step forward with your left foot and twist your torso to the left as you bend your knees and lower your body until both of your legs form 90-degree angles.
Twist back to centre, push off your left foot, and stand back up.
Repeat on the other leg. Continue Left and Right leg forward lunge with rotation for the minute.
Hip Flexor Pushup

Start in a push up plank position
Move your left foot adjacent to your left palm while maintaining the plank position.
Drop your hip down with the extended right knee off the floor. Hold the stretch in your hip flexor for 2 counts.
Raise the hips back up and then lower again, repeat 5 times.
Return to plank position
Repeat for right foot forward.
Alternate between left and right foot for the minute.
.
Enjoy your workout this week!
.
Anna