At Home Workout 206
Three exercises as follows:
Each body weight exercise is done for 1 minute, the circuit is repeated 3 times.
Total exercise time is 9 minutes.
Click  TIMER  to download the 1 minute timer.
Alternating reverse lunges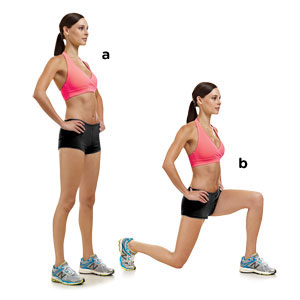 Stand with your feet hip-width apart, hands on your hips, chest up, and shoulders back(a)
Keeping your upper body still and core tight, take a large step back with your right foot,
bend both knees to lower into a lunge(b)
Press through your left heel to return to standing.
Repeat, stepping back with your left foot. That's one rep.
Continue alternating for the minute.
Half Jack


Stand with feet together and place your hands down in front of you.
Start by bringing the right hand up overhead and left leg out to side.
Return to start position.
Repeat with left hand and right foot.
Alternating sides for the minute.

   Good Morning     
Stand with your feet hip-width apart, and place your hands at the back of your head with your elbows opened wide.
Pull your abdominal muscles to your spine and keep your back neutral while pressing your backside backward, hinging at the hips, until your back is almost parallel to floor. Keep a slight bend in your knees as you bend forward. Feel your weight in your heels and whole foot.
Return to standing, while squeezing your backside muscles until you are upright. This completes one rep.
Continue for the minute.
Enjoy your workout!
Anna