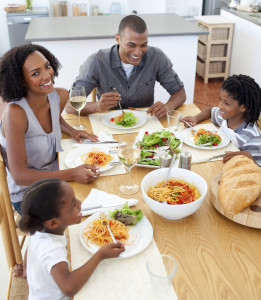 Parenthood is an interesting journey of self-discovery, it begins enthusiastically, has elements of surprise, confusion and delight.
No matter what road is taken or by whom all parental sentiments are the same – it is hard work!
Family meals, in particular, are a challenge!
Dealing with children's preferences for food choices is pure exasperation. No carrots, No sauce, No greens, No Mash, No pointy bits, No lumpy bits, No bits, Just Treats, please……
Convincing children that your 16 variations of Spaghetti Bolognese are all different meals is madness.
However, if frozen or fresh ready meals, healthy or junk meals, take out or dine in meals has become your weekly meal plan, you may be wondering if there is any alternative!
Personally, this was a huge problem for me. I left my profession as Chartered Accountant, studied nutrition, particularly for children and spent a year and a half working at SBS Day Care Centre.
Working with children, I learnt quickly, there is no magic formula and no special food for kids.
Each child is unique and adorable and the only reason the Day Care Centre meal times did not decay into diabolical mayhem was for the following:
All meals were planned
All meal times were scheduled
All Children had to sit at the table and have respect for each other and the carers
All Children were offered a variety of healthy food and encouraged to try their food and respected for their choice to either accept or refuse.
No "on demand" request was validated; children were encouraged to wait for the next scheduled meal time.
Children did not draft the meal plan.
Meal Plans were drawn up by qualified and experienced professionals.
I implemented this same process into my dinnertime practice, and while it sounds regimented, we went from whining to dining.  I can truly say I now look forward to dinnertime with excitement and not dread.
If you are looking for a healthy solution to mealtime chaos, I encourage you to try meal planning.
To help you start, download our FREE Meal Planner
If you are looking for easy, healthy family friendly meal recipes, our Benchtop Planner is a helpful resource.
I hope you too can dine without whine!
Let me know how you go.
Cheers!
Anna