The power of Fitness WELLth is in its simplicity. We give you 3 strategically chosen exercises each week and ask you to workout Monday to Friday for 9 minutes. Our simple programs come with step by step exercise instructions and a 9 minute program video for you to follow. Exercising using our 9 Minute Fitness WELLth program is easy and designed to improve the key elements of your fitness, that is; Cardio Endurance, Muscle Tone and Core Strength. Consistency and repetition is the key to Fitness WELLth, and it works because you can enjoy exercising daily, any time, any where! Here is what 9 minutes of daily exercise can do for you in just 4 weeks:
Improve Cardio Endurance. Climb stairs or walk up hills without becoming out of breath.
Increase Muscle Tone. Strong muscles means opening jars or getting up from a chair will be easier.
Build Core Strength: Relieve back pain and help maintain good posture.
Healthy Weight Loss: Improve food digestion and bowel movement. Feel less bloated and exhausted.
Facilitates Quality Sleep: Wake up feeling fresh, energized, happy and grateful for your Fitness WELLth!
Fitness WELLth programs are focused on improving 5 crucial areas of whole body fitness: Balance, Agility, Core Strength, Muscle Tone and Cardio Fitness.
Follow the steps below to trial our FREE Sample workout.
Download the Sample 9 Minute Workout exercise guide by clicking on the picture below or HERE
Read the exercise instructions for each of the 3 exercises and note the modifications
Press the orange bar at the bottom of the exercise guide to play the 9 minute exercise video
Watch the video and note how to do the modifications or progressions
Start exercising with your 9 minute Fitness WELLth Sample Workout TODAY!
Enjoy daily, the feel good of exercise!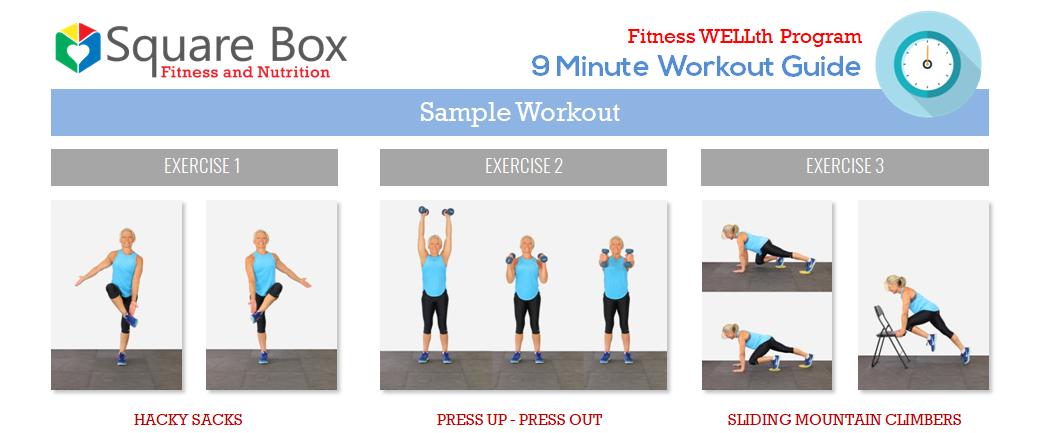 Life Changing Exercise in 9 Minutes
Willpower is not responsible for success or failure in achieving your desired levels of fitness. Finding your time or motivation is not a pivotal factor in building a healthy body for life.  Creating daily exercise habits with the help of your friends in fitness is what our professional athletes and recreational fitness enthusiasts have in common. Therefore, it's time to put aside all your excuses; be realistic, you are capable of 9 minutes of daily exercise. Let's get started TODAY!