At Home Workout 108
Three exercises as follows:
Each body weight exercise is done for 1 minute, the circuit is repeated 3 times. Total exercise time is 9 minutes.
Click TIMER to download the 1 minute timer.
Chair squat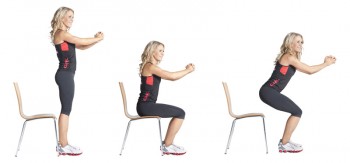 Stand in front of a sturdy chair with your feet slightly wider than hip distance apart.
With your weight in your heels, bend your knees and shift your hips back, squatting down onto the chair.
Brace the core and stand straight back up, keeping your weight in your heels
Repeat for the minute.
Skipping with or without a rope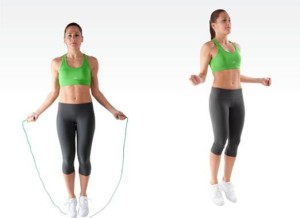 Buddy Lee's (Olympic Champion Jump Rope) check list
Maintain your balance by looking straight ahead.
Maintain an upright posture.
Maintain your weight on the balls of your feet.
Jump only high enough to clear the rope (approx. 1 inch off the ground).
Land lightly on the balls of your feet.
Keep your elbows near your sides.
Maintain your elbow joints at a 45-degree angle.
When turning the rope, make 2-inch circles with your wrists.
Do not sacrifice good form for speed.
Plyometric wall push ups  
Stand a few feet away from a wall (further away from the wall the more difficult the exercise)
Align yourself in a plank leaning on the wall (A).
Do a push up (B), and at the top push yourself off the wall (C).
Land back onto the wall with slightly bent arms.
Repeat as many times as you can in the minute.
Enjoy Your Workout
Anna