Jump to recipe
BBQ Vegetable Skewers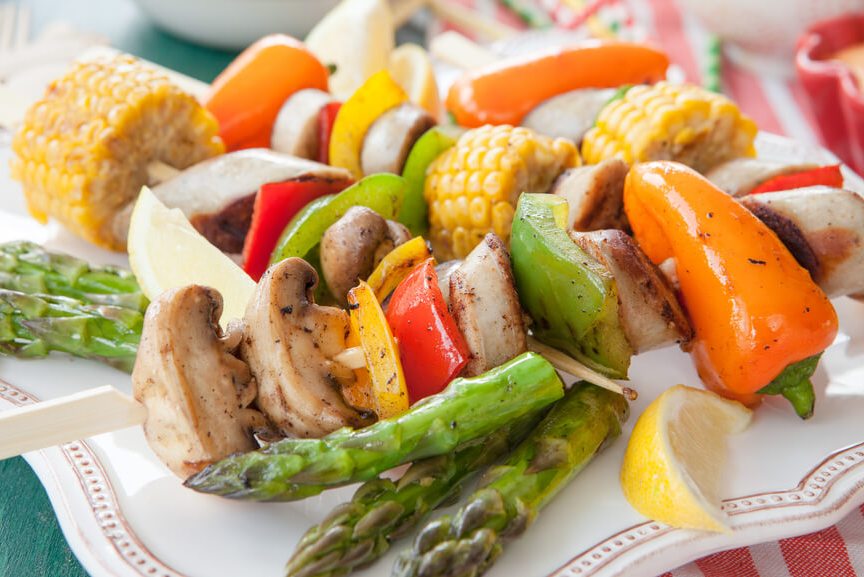 Ingredients
♡ Vegetables Of Your Choice; Cut Them Rough The Same Size, For Example: Mushrooms, Red Capsicum, Green Capsicum, Red Onion, Corn Cob, Zucchini, Asparagus, Haloumi Cheese
♡ Bamboo Skewers (Pre-Soaked)
FOR THE MARINADE
♡ 1/4 Cup Olive Oil
♡ 2 Cloves Garlic Cloves, Pressed
♡ Juice Of 1 Lemon
♡ 1/2 Teaspoon Dried Oregano
♡ 1/2 Teaspoon Dried Basil
Instructions
♥ Preheat oven to 200 ºC
♥ In a large flat bowl whisk together olive oil, garlic, lemon juice, oregano and basil; season with salt and pepper, to taste.
♥ Add all the vegetables and marinate them for about 30 minutes if you can.
♥ Thread your vegetables of choice onto skewers. Place skewers onto a baking sheet. Brush olive oil mixture onto the skewers for extra flavour.
♥ Place into oven and roast until tender, about 10-12 minutes or you can BBQ.
♥ Serve and enjoy!
© 2023 Copyright: Square Box Fitness